West Star Capital a is pleased to announce and welcome
Daniel Ahearn
as Vice President of Business Development and Sales.  Daniel will be responsible for the leadership of the West Star Capital sales team, developing new business opportunities and creating customized solutions to customer needs.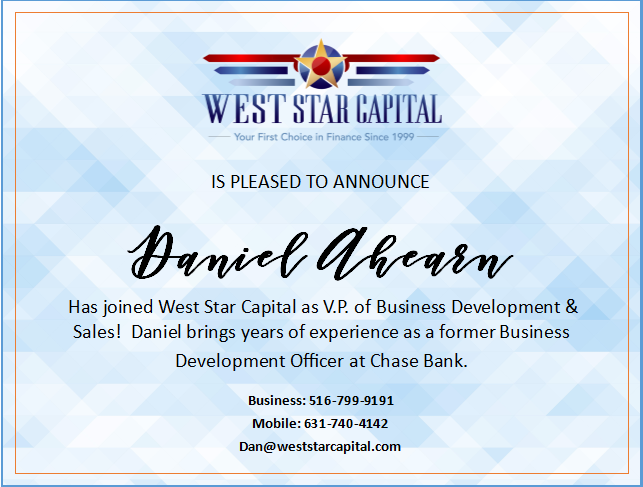 Daniel  is a well-known figure in the industry with years of experience via his affiliation with Chase Bank. In addition, Daniel has a proven record of facilitating long term business relationships with both customers and industry luminaries.  His strong winning attitude and personality are assets that will complement and enhance West Star Capital's ability to meet the needs of our customers as we continue to provide quality, personalized customer service. You can reach Daniel Ahearn directly at 631.740.4142 or via e-mail at
dan@weststarcapital.com
About West Star Capital West Star Capital offers competitive, multi-tiered financing programs with a specific focus on the commercial business sector and franchise finance. We can accommodate loans from $150,000 to $10,000,000 including: commercial loans, lines of credit and commercial mortgages. We also have an expertise in lending to a myriad of industries including: health clubs, the automotive industry, hospitality industry, medical, manufacturing, construction, recycling and more.