Here are some new local spots we have had the pleasure of working with!!
West Star Capital is so proud to be working with some fantastic local businesses here on Long Island.  It is one thing to be part of a customer's growth and expansion, but to have the opportunity to see it happen before our eyes is truly exciting!
If there is one thing about what we do at West Star Capital that I love, it's that we get to meet people who love what they do for a living.  These businesses are their babies, and you can see the thought, love and care that is put into their businesses in the décor, the quality of the food and the happiness and attentiveness of their staff.
These local businesses are innovative and great at what they do! Take a look below and consider visiting them yourself!
The Shed, Huntington, NY

The Shed is located in Huntington, Long Island.  It opened fairly recently and it hasn't taken long for the buzz to get around on this great establishment!  The Shed is not your average restaurant.  They serve Brunch, Lunch and Dinner and everything they serve is made from scratch!  What I happen to find extremely enjoyable is this is a great spot that can accommodate anyone in your party.  You can order delicious and fresh salads and bowls if you're trying to stay light or if you're feeling indulgent you can get an AMAZING burger! Of course we've sampled the delicious fare at this beautifully decorated day and nighttime spot, and the food is absolutely spot on.  The Burrata Toast is a delicious and light appetizer, the burger is perfectly seasoned using top quality meat and cooked to perfection and their bowls are not only healthy and a great Gluten Free option, but they're delectably satisfying to your palate, too! And don't forget to order one of their hand crafted cocktails – they're absolutely delightful!
The Shed Burger

The Shed Bowl
The Shed is located at 54 New Street, Huntington, NY.  You can visit their website intheshed.com where you can place an order online or view their menus.  They also have a very strong Social Media following!
Local Burger Co., Patchogue, NY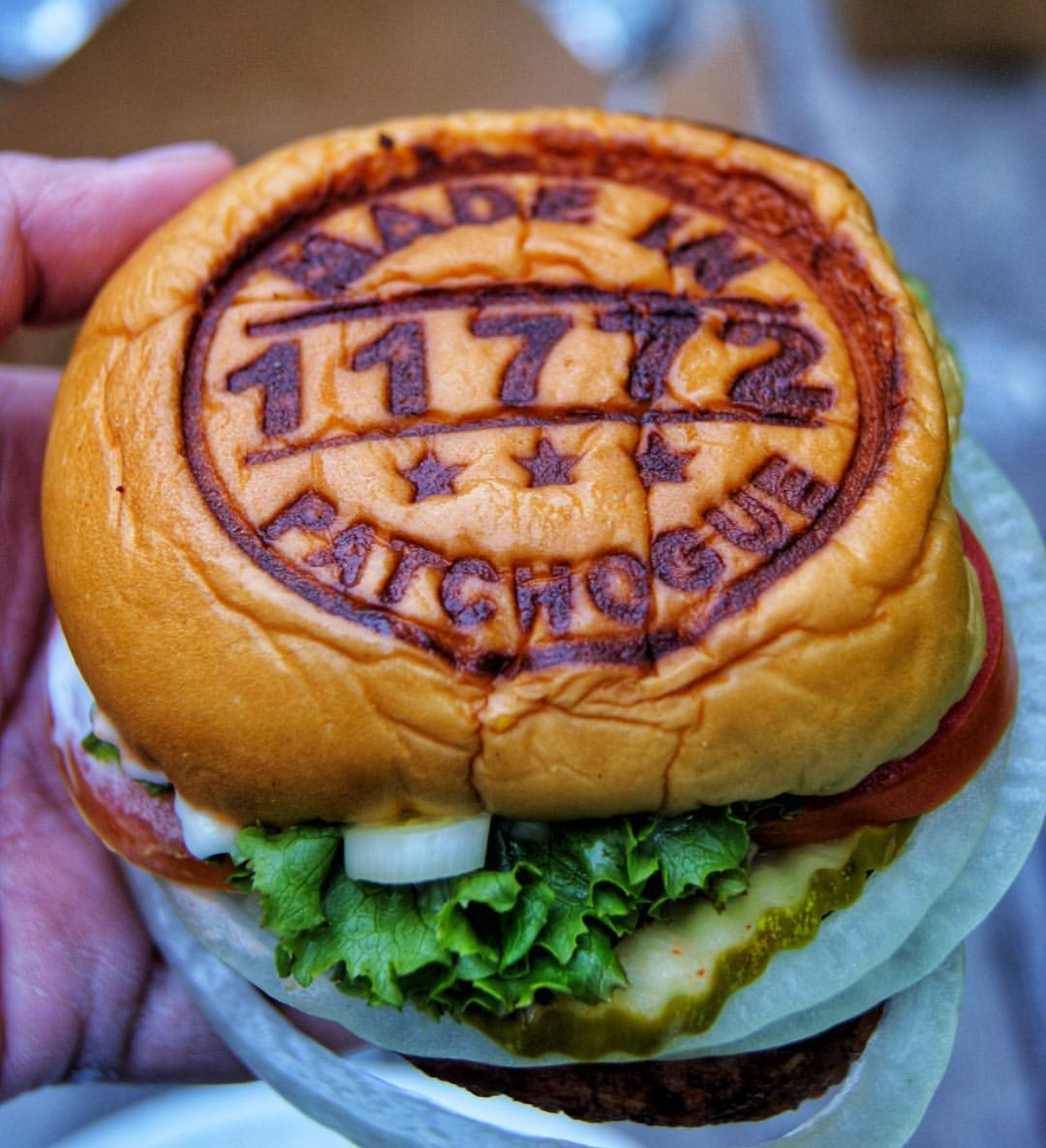 Local Burger Co., has taken "old school" principles and reinvented them for 2018! Local Burger's mandate is to source local vendors for all of their foods and drinks, so that what you're eating is not only delicious and fresh, but is supporting our local economy and local businesses.  It is a beautiful synergy that comes together deliciously for its customer base.  Remember when all the food you ate at a restaurant came from a local purveyor?  Yeah, me neither! Their menu has burgers (of course), hotdogs, BBQ, local wines, local beers, milkshakes, and it doesn't stop there, there is a huge array of cocktails you can sample, too!  Definitely a spot that can satisfy a palate at any age!
Traditional Burger & Fries

Milkshakes!

Local Taps!
The Local Burger Co. in Patchogue is located at 76 W Main Street in Patchogue.  You can find them online at www.localburgerco.com where you can order online and even get a listing of all the local suppliers they utilize.
I would like to take this moment out to thank The Shed and The Local Burger for giving West Star Capital the opportunity to work with operators , who love what they do and create a great atmosphere for fellow Long Islanders through décor, fresh & delicious food and wonderful experience!