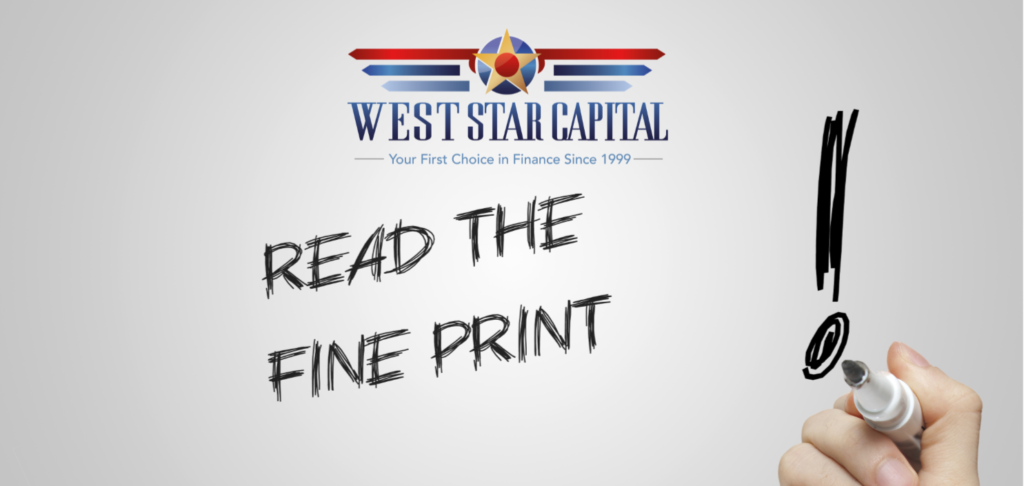 Often lost in most Lender's "FINE PRINT" are a BEVY of NEFARIOUS loan covenants that can severely restrict your organization's financial well being and future growth.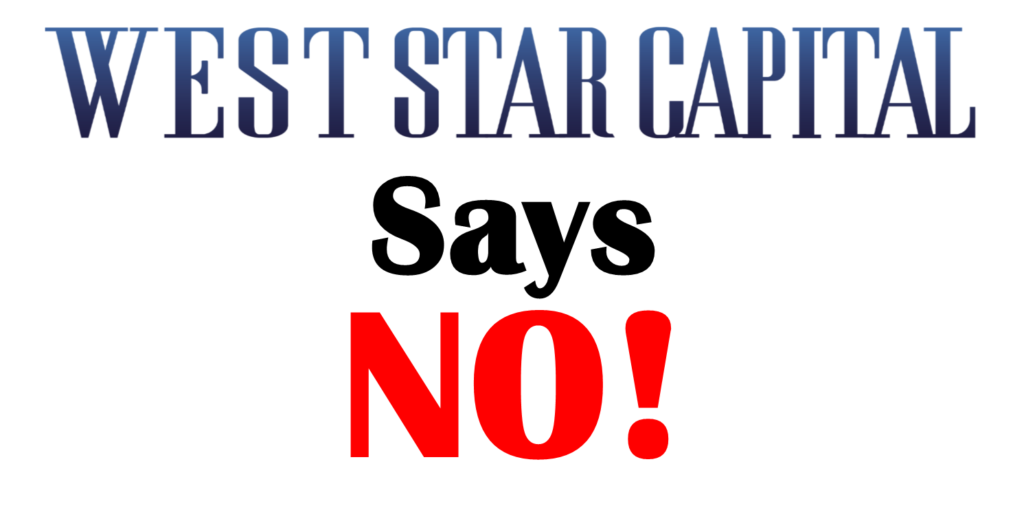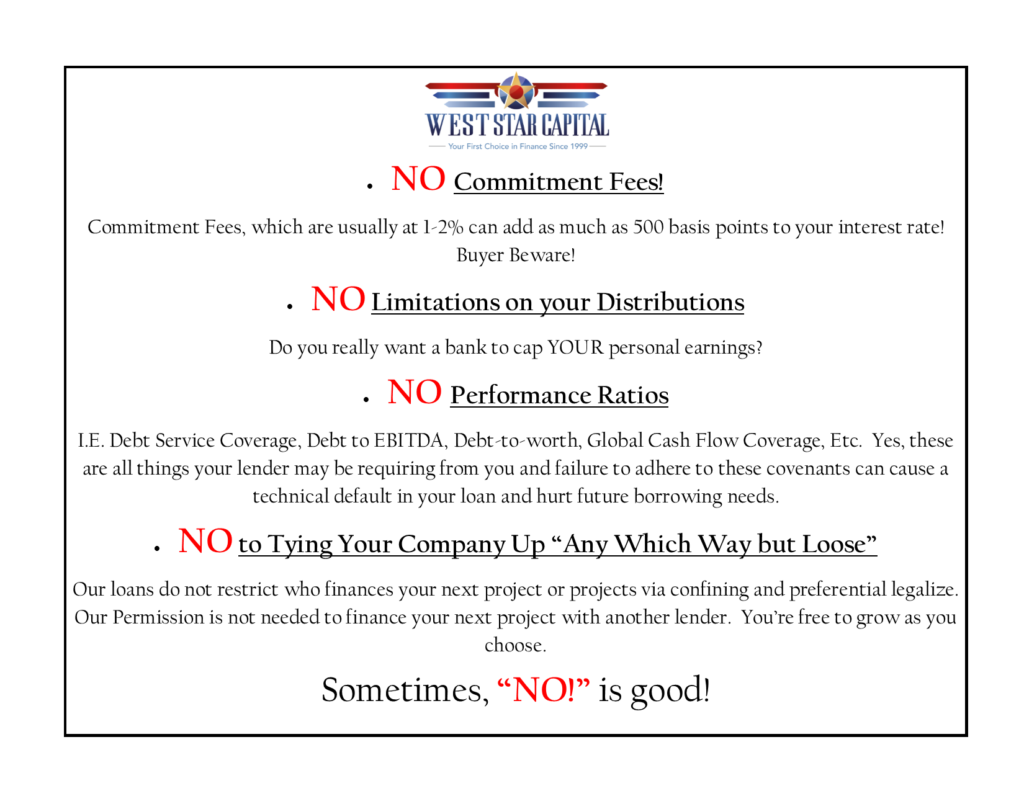 Commitment Fees: Paying for the privilege of a bank giving you a loan approval??
At West Star Capital it is our privilege to provide an approval without a fee.
Big Banks are huge profit centers who are experts at masking your cost of borrowing. When a lending institution gives you what appears to be a "skinny" rate on your equipment loan but charges you a commitment fee (1-2% of the loan upfront), they are in point of fact, increasing your cost of borrowing. The banks are aware that upfront fee income is money "out of your pocket" and into theirs!
It's pure profit to the bank's bottom line (It's what they do).
You would be better served by borrowing less or utilizing,
West Star Capital and our Zero Commitment Fee Initiative.
Limitations on Distributions:  You're an entrepreneur for a reason, right?  You are a hard worker; you have a strategic vision and you want to see it come to fruition.  The majority of lenders seek to limit your distribution to further secure the security of their loan… Are loan documents, UCC filings, Corporate and Personal Guarantees not sufficient?
At West Star Capital, we don't want to count your earnings and in effect control your wallet!  We have confidence in our borrower's business acumen and as a result, we do not require limitations on shareholder distributions.  Your money earned is your money earned. 
If in fact your bank is capping your distributions, you may want to consider paying off that loan(s).
No lender should have that kind of power over your company. A lender, bank or finance company should be your finance arm, not your business partner controlling you and your organization.
Performance Ratios: Throughout the term of your loan, some lenders require Performance Ratios. By way of example: Debt Service Coverage, Debt to EBITDA, Debt-to-worth, Global Cash Flow Coverage, etc. to measure various aspects of your company's performance throughout the term of your relationship. #BigBrother, right?
Furthermore, failure to adhere to these kinds of requirements will put you in "Technical Default" of your loan facility, even if you're paying perfectly. Being in default of a loan covenant (s) can really hinder your future borrowing needs as broken covenants have to be disclosed on your financial statements (Audited or Reviewed), or when another lender calls for a reference.
This is not an environment you want to be in with any lending institution.
Tying Up Your Company: What we mean by this is that Banks have a "belt and suspenders" mentality and more often than not will attempt to "tie up your company" and restrict your future growth and expansion as an organization, to protect their outstanding loan(s).
I personally cannot tell you how many borrowers we meet who would like to get a loan for a second or third location, and to their chagrin, they find out they can't move forward with their business plan as they had intended. This is due to their previous lender placing a restriction on the borrowing entity, inhibiting the company from guaranteeing any future loans or being part of any other projects.  This is a terrible position to be in when you have an active ADA and need to adhere to a pre-ordained expansion plan. 
In these instances, the lenders are taking the place of a "parental figure" basically saying you cannot drive your own car without their permission.
 West Star Capital does not make these kinds of demands on our borrowing entity or guaranteeing entities. 
You have the freedom to move forward as you would like.
So, we would like to take this opportunity to say, as boldly as possible, no fine print, that:

DOES NOT CHARGE COMMITMENT FEES.

DOES NOT REQUIRE LIMITATIONS OF YOUR DISTRIBUTIONS.

DOES NOT REQUIRE PERFORMANCE RATIOS.

WILL NOT TIE UP YOUR COMPANY AND HINDER YOU FROM FUTURE EXPANSION.

THE "USER FRIENDLY"
FINANCE COMPANY
West Star Capital is so pleased to be working with such a wonderful franchise like Planet Fitness. We were extremely happy to support the Planet Fitness Independent Franchisee Association (PFIFA) again in San Antonio this year.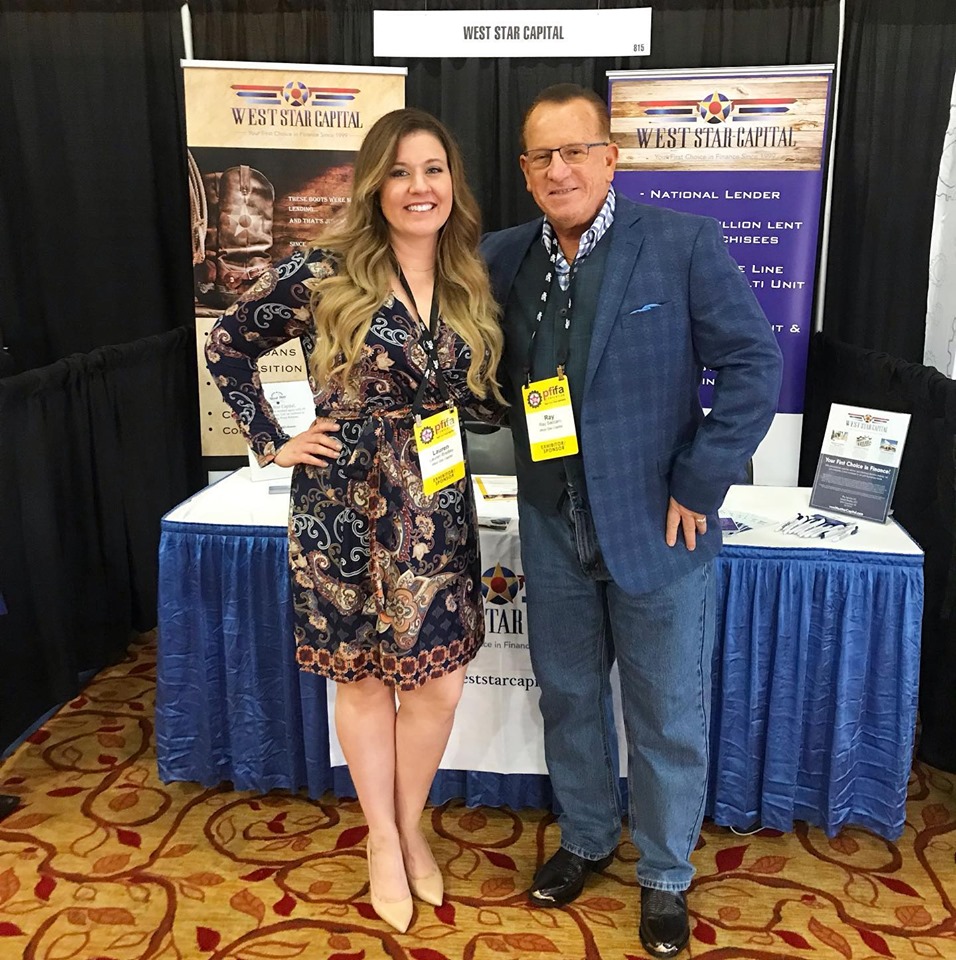 Ray and I truly enjoyed the "face time" with our existing PF clients and also enjoyed all of the new Franchisees we met out there! We look forward to building upon an already fantastic relationship!
Since 2008, we have been a huge supporter of this excellent platform and to date are happy to say that we've successfully loaned $90 MILLION to PF Franchisees.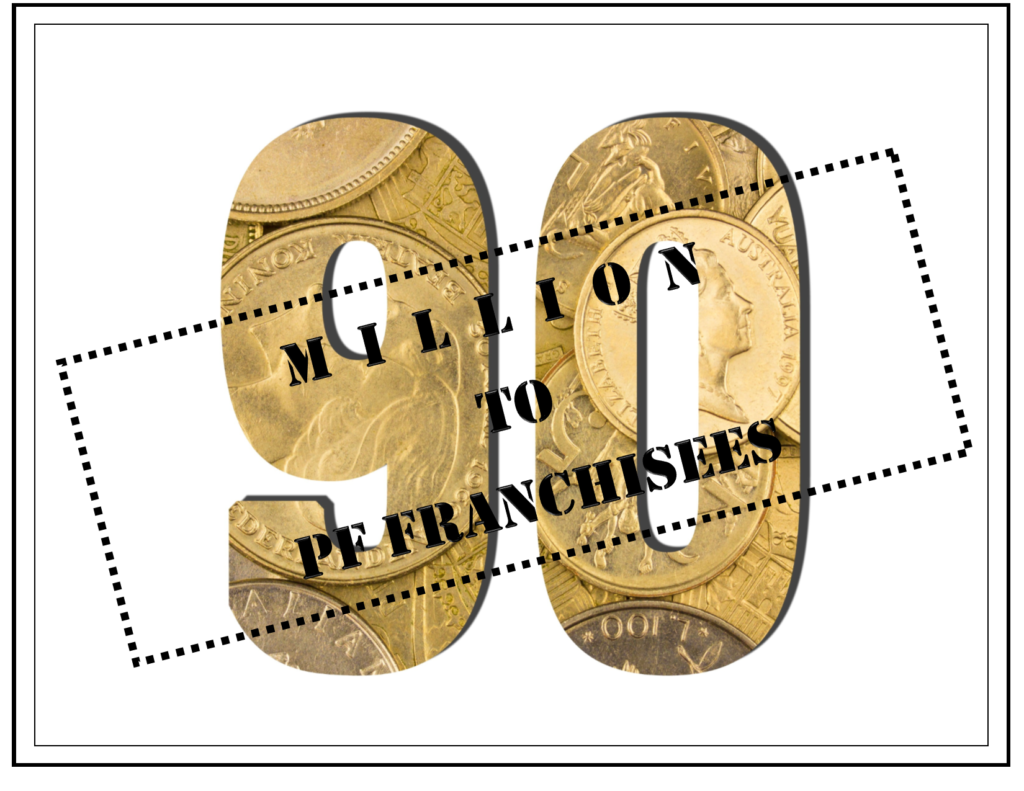 Shoot Ray or myself an e-mail or give us a call! We've got some great programs out there for our Planet Fitness Franchisees!
RAY@weststarcapital.com 516.799.9191 x113
LAUREN@weststarcapital.com 516.799.9191 x110
For being the first to take advantage of our "EXPRESS" App Only Program!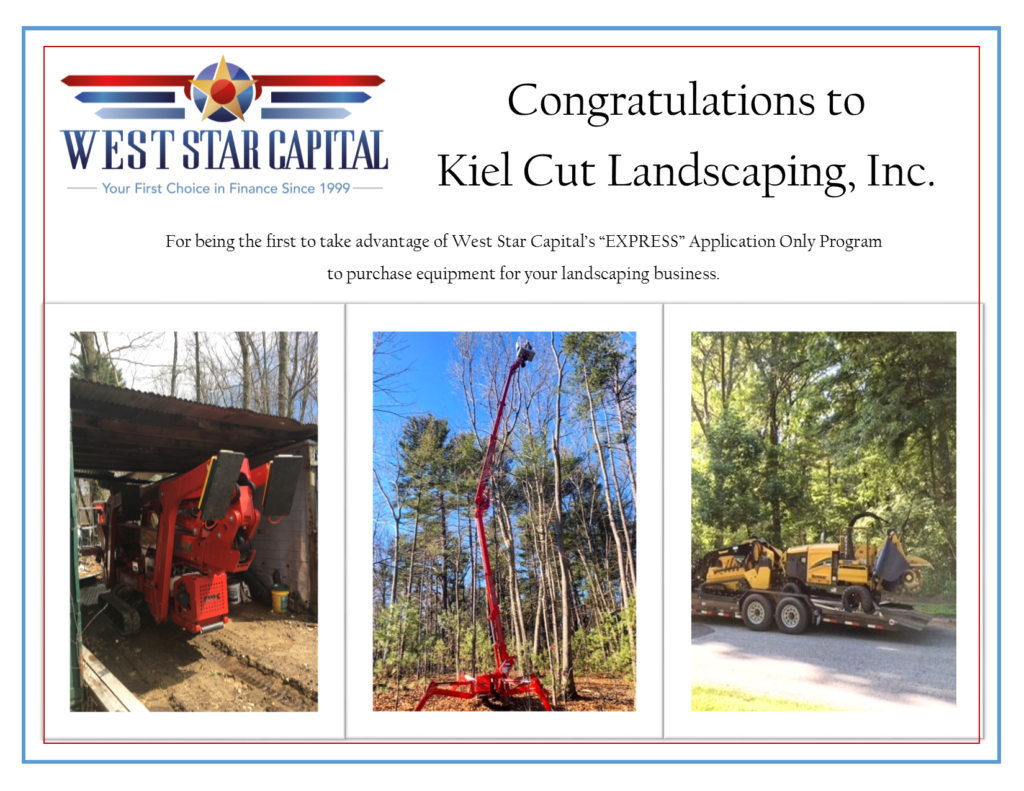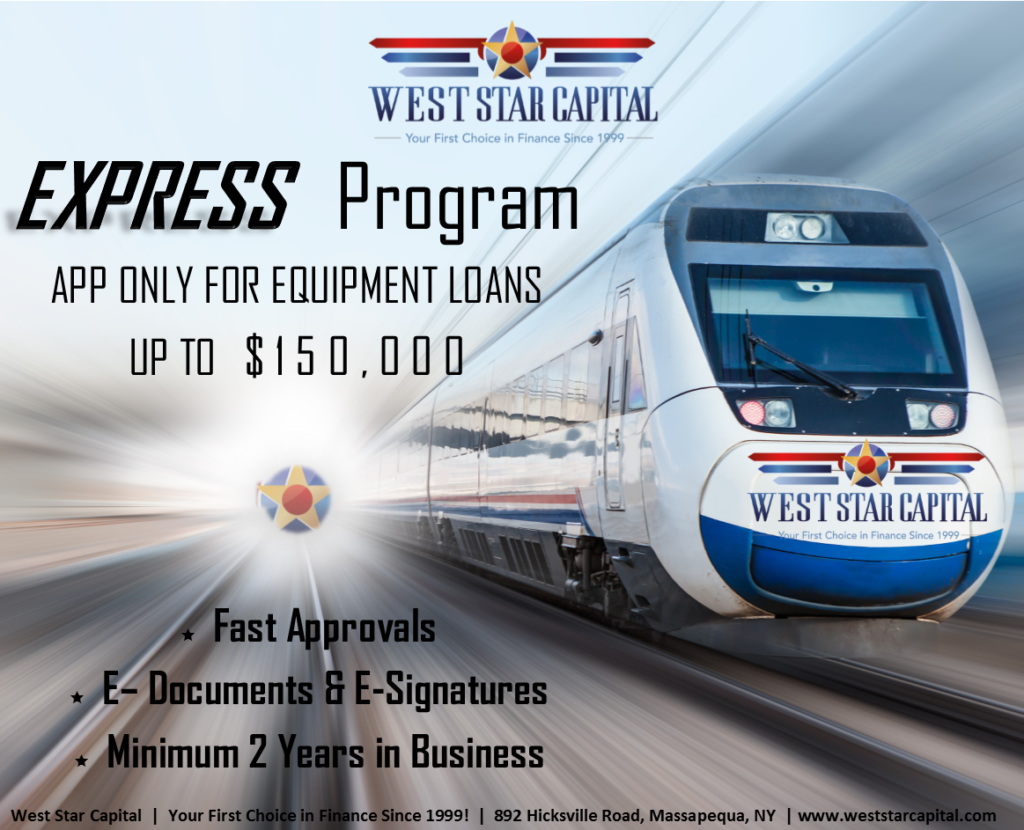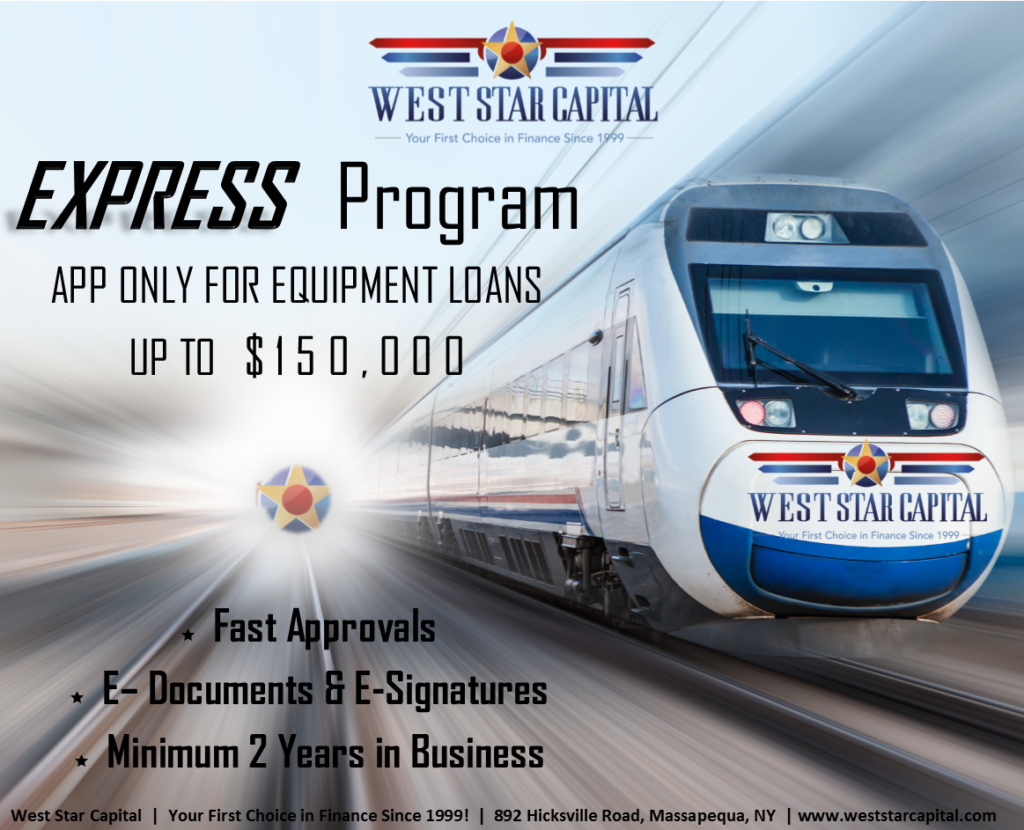 We are excited to announce that we now offer an EXPRESS PROGRAM: APP ONLY for Equipment Loans up to $150,000!!
FAST APPROVALS
E- Documents & E-Signatures
Minimum 2 Years in Business
Please feel free to reach out to me via e-mail lauren@weststarcapital.com or by phone at 516.799.9191 for more information!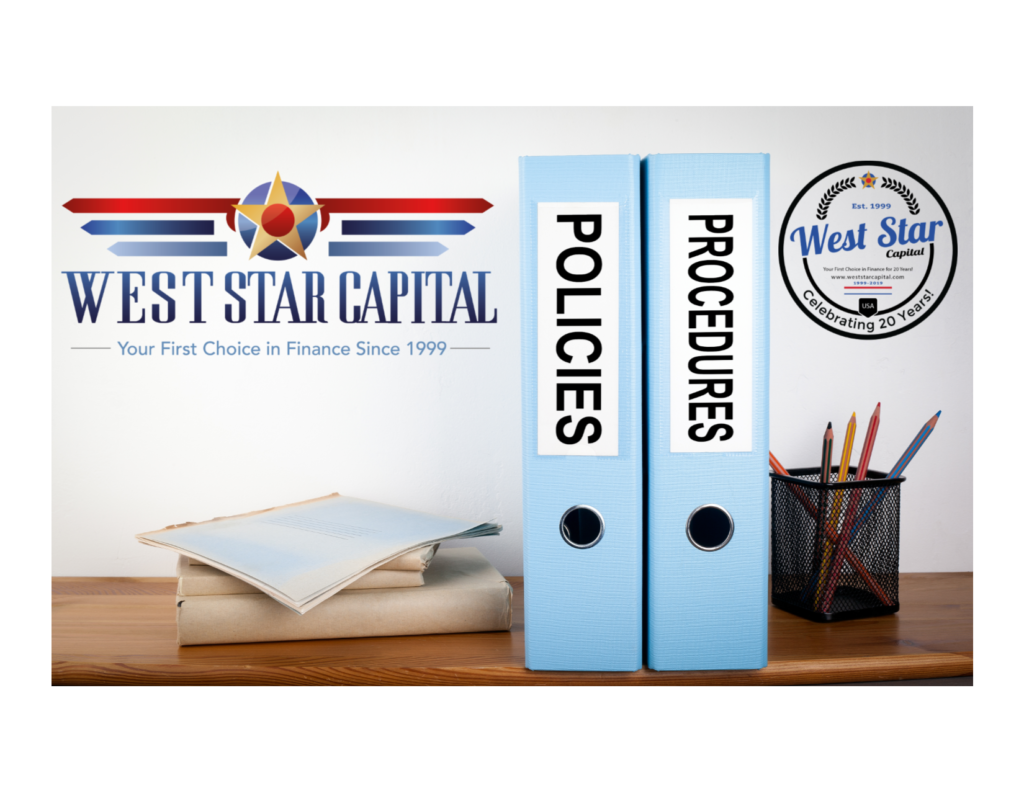 We are excited to announce that this is West Star Capital's 20th year in business!
Starting from the humblest of office spaces (my parent's basement) in 1999, Ray Saccaro started West Star Capital and has seen its growth to a top tiered national lender.
As a result, we have initiated loan facilities to some of the most preeminent business owners in their respective industries.
Our mandate has been to make the borrowing process seamless, while providing a customized loan platform to fit the needs of our individual borrower. We pride ourselves in being your business partner and your finance arm, hopefully for another twenty years (at least).
One of the most frequently asked questions we get when speaking with new clients is "What's the process?" Or, "Where do we go from here?"
We thought our blog would be a great place to outline what you can expect from our processes and procedures and explain why we may be asking for these materials.
Since 1999, a lot has changed in the cyber world, that's why West Star Capital's documentation is kept under very high security. It is very important to us that your private information is kept as secure as possible. We implement a premium echelon cyber security process to keep all your information protected at all times. For documents that are physically in our office, our safety protocols ensure that any physical documents are securely filed or shredded if not used within a certain time-frame.
West Star Capital does not share your private information with any other parties other than our banking partners who will be providing the loan with West Star Capital.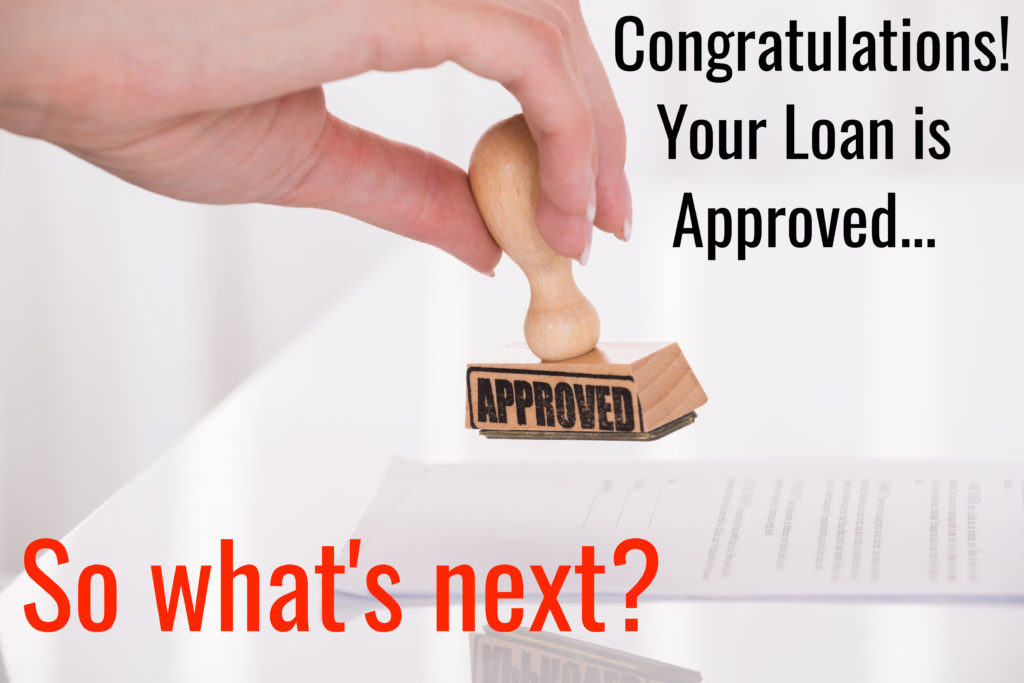 What's next is we document your loan! West Star Capital will provide you with our loan documentation either in person or via our secure document portal. The loan documents that the customer will receive can differ from loan to loan depending on you and your company's needs. However, our loan documents almost always include:
Equipment Finance Agreement or Chattel Mortgage

This document outlines who the borrower is, the term, the payment amount, if any loan payments were made in advance, who the vendors are (if more than one, they will be listed on a separate pay proceeds document) and the date the documents were received in house, etc.

Equipment Schedule A

This document lists the vendors and the equipment on each transaction and is the same listing that is used when we file our UCC Filing when the loan is closed. This document is always signed by both parties.

Pay Proceeds Document

This document provides a listing of which vendor is to be paid and how much they are to be paid. We ask that our clients sign this document to confirm who is to be paid on the loan and that the loan amount matches the various invoices that are provided.
It is important to note that vendors CANNOT be paid in full without the borrower's permission to do so, a final invoice from the vendor and the entire loan cannot be paid without a thorough equipment inspection with photos to confirm the equipment is on site and in working order.
"Do you REALLY need this document?? I don't know when I'll get a chance to send it to you."

I cannot tell you how often I get this question asked. I completely understand as our customer base consists of very busy captains of industry. The answer to this is almost always yes! The reason for all of these documents and policies is actually for your own protection!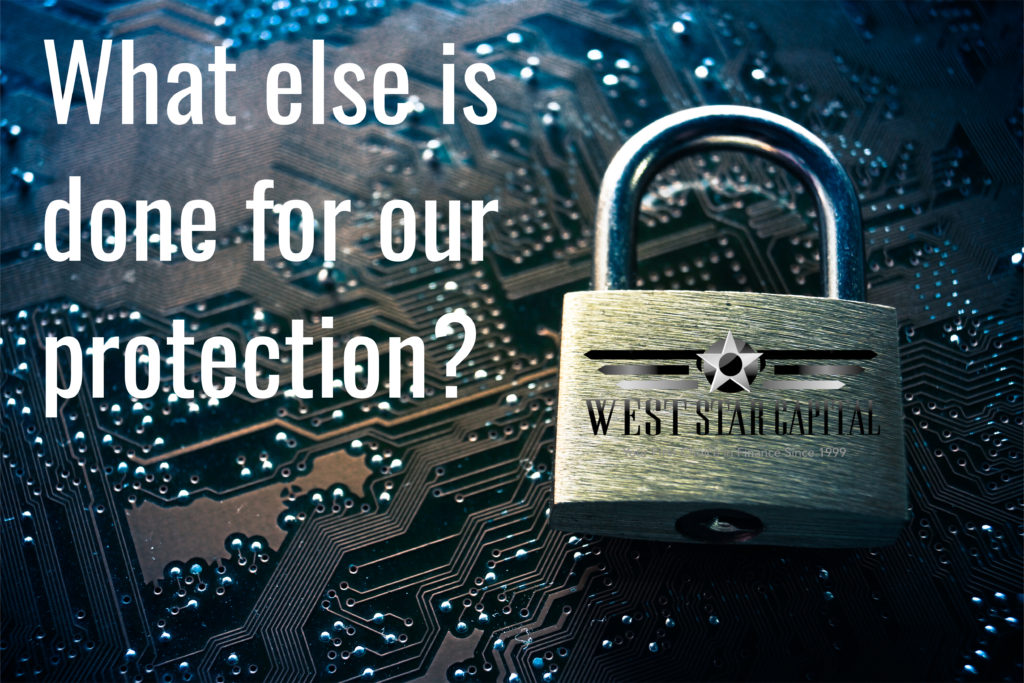 Prior to the final funding of your loan, we order an inspection of the equipment being financed using an inspection company. This is not only protecting the equipment in the UCC filing, but to also confirm that you are not paying for any equipment that wasn't delivered or isn't working properly. This is always why we always check with the borrower prior to any vendors being paid.
All of our banking partners call the borrower and confirm all of the loan particulars prior to your loan funding to confirm who is to be paid, how much, the term, the payment amount, etc.
West Star Capital uses a ShareFile portal to send your loan documentation to you to protect your salient data. You can also use this portal to send us your information if you choose to. Just click here to use our ShareFile portal.
West Star Capital has a secure cloud where all documents and e-mails are written and is completely impenetrable using the cyber security company, Cyber Brigade.
We hope this clarifies some of the process for you. Feel free to comment if you have any other questions about how this process works or email me – lauren@weststarcapital.com – and I'd be happy to discuss this further with you!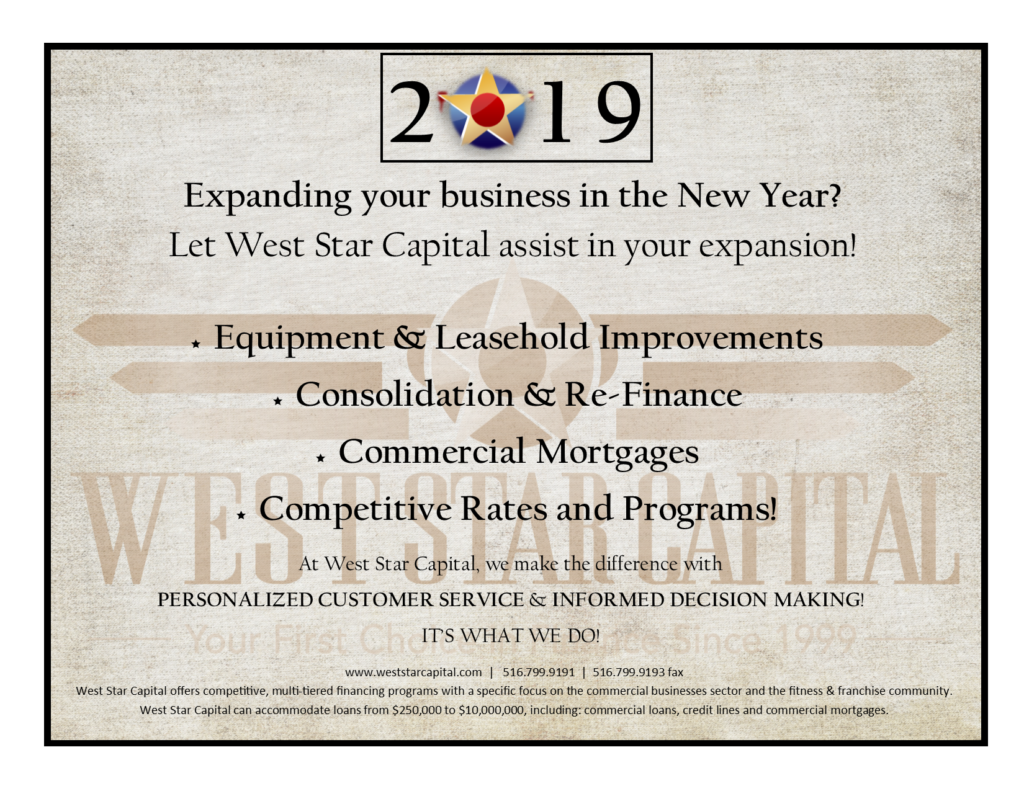 Meet Ray Saccaro, President & CEO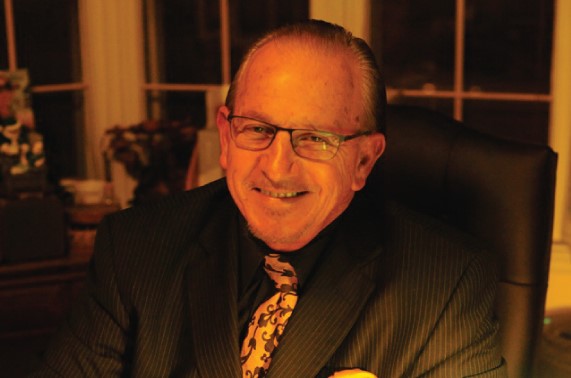 Question:
How did you get into the Finance Industry?
Answer:
In college I started working part-time repossessing televisions, washing machines and furniture, for General Electric Credit. After I completed college, they offered me a position as a Management Trainee, with a fast track to management. After five years, I became their top tiered Sales Manager with a territory covering Nassau, Suffolk and Queens Counties in New York.
One of the advantages of General Electric Credit is that they had an intense credit training program which has paid dividends for me throughout my career in Banking and Finance. They also, made all trainees start in collections so you could learn the consequences of a poor loan decision.

Question:
What was your most satisfying position in Banking?
Answer:
I enjoyed my eleven-year career with Barclays Bank of New York.
During my tenure with Barclays, I ran the largest self-generated portfolio in the Bank ($350,000,000) and rose to a Senior Management level, where I coordinated the Bank's sales teams for Nassau and Suffolk and Queens Counties. Also, Barclays' diversified lending platform provided me with a myriad of loan advances including, Commercial Mortgages, Lines of Credit, Term Loans and Branch Banking experience.
This experience provided me with the scope of knowledge necessary to run my own Business and more importantly, I was able to parlay my book of customers into my own business, West Star Capital.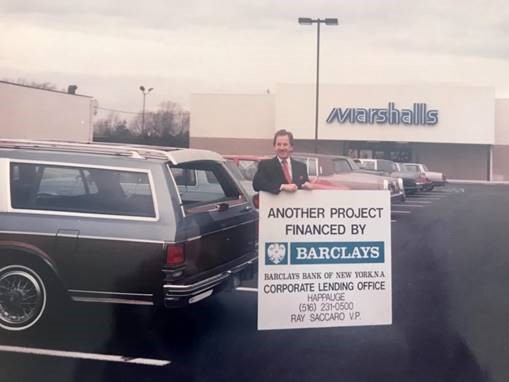 Question:
What was the Genesis of West Star Capital?
Answer:
Barclays Bank sold their lending portfolio and laid off 95% of the staff, including executive Management.
I realized how vulnerable individuals are to the whims of Corporate America and started West Star Capital in 1999 from my basement. During the next few years the business grew exponentially, to the point that I took my twenty-two-year-old daughter, Lauren, as a full-time employee. Together we built West Star Capital into a National Finance company. Today Lauren Bradley is a 50% owner and a vital cog in our business. She was the HLIA women of the year and is an active member in raising monies for the Leukemia & Lymphoma Society and their team in training.

Question:
How did you come up with the name West Star Capital?
Answer: The name West Star came from the iconic television show Dallas, where Ewing Oil's top Competitor was West Star Oil. I always loved the name West Star and knew if I ever started my own business it would be West Star… something, [laughs].
Question:
How has your role changed from your days in Banking?
Answer:
The change has been exciting, as my lending is not restricted to New York as it was in banking.
As a result, we are lending to a broader base of business, which include some of the most recognized franchises in the nation, including:  Planet Fitness, IHOP, Crunch, Taco Bell, Smoothie King, Jersey Mikes, etc. Also, as a true "boutique shop" we have been able to forge individual relationships with the top-tiered franchisees lending them multiple million-dollar loans for their numerous locations.
Also, our loan initiatives cover a bevy of lending including loans for equipment, improvements, commercial mortgages. West Star Capital also, has access to monies that allow us to lend at rates competitive with our Banking counterparts.

Question:
How does a Company Like West Star compete with some of the largest Banks in the nation?
Answer:
That's a really good question, as a rule we are more responsive and render a faster credit approval than our banking contemporaries. In fact, often we will close loans that we are competing on with a bank and our customer's will advise us that two months later, the bank was still requesting additional information. They had to point out that they were two payments or more into their loan facility with West Star Capital and thanks for nothing.
Question:
What is the long-term outlook for West Star?
We have been in business for over twenty years and with a book of recurring business from satisfied customers, we are an entity that will be around for many years to come.
Also we have a relatively young core of upper management: Lauren Bradley handles the interface with the customer base for both documentation, sales and the credit function.
Our National Sales Manager, Daniel Ahearn, is an aggressive and responsive part of our business development efforts.