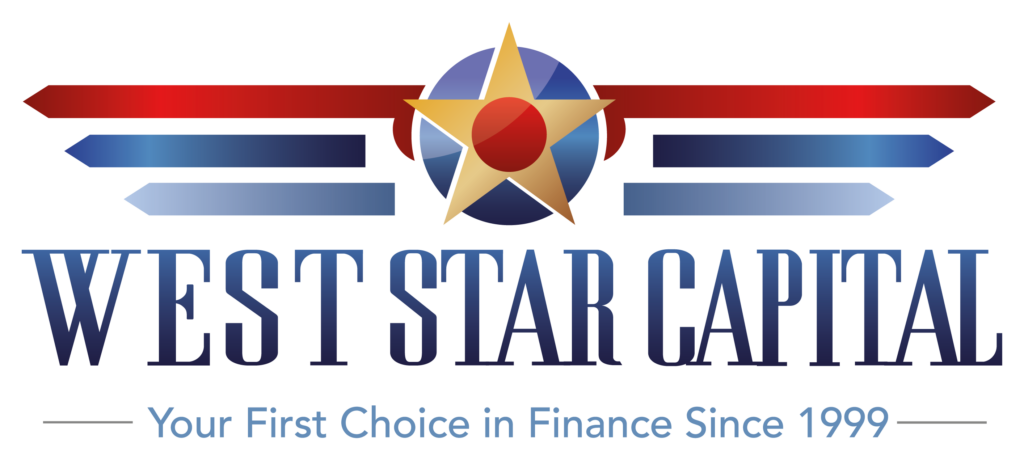 West Star Capital wants to help you get YOUR economy back into high gear.
The various COVID mandates that have been put in place, while of course are for our safety, have unfortunately left many business owners in a precarious position, financially. One course of action you can take, to provide you and your business with some economic relief, is to refinance your existing debt and make some shifts & improvements with your cash flow.
Our REFI Programs are "Fast & Furious" and can really help you boost your cash flow!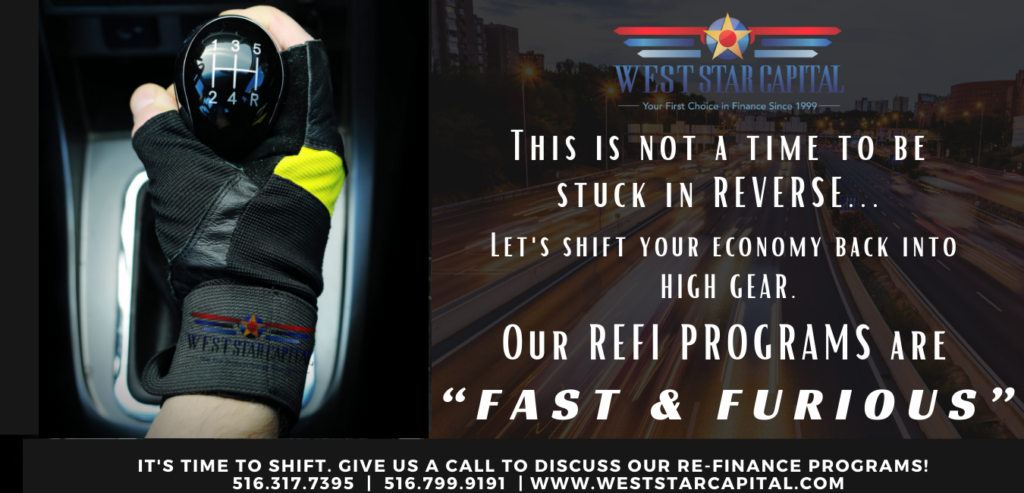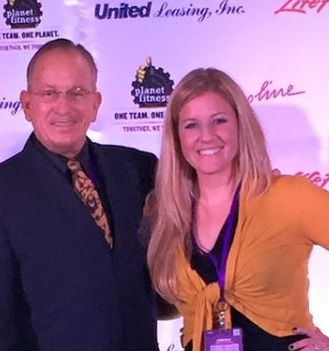 Ray and I are always available to answer any questions or provide you with any financial guidance that you might be seeking at a time like this. One part of our mission statement, that we still live by to this day, is that we want to be part of your team and watch you and your business grow. We are just a call or e-mail away, any time.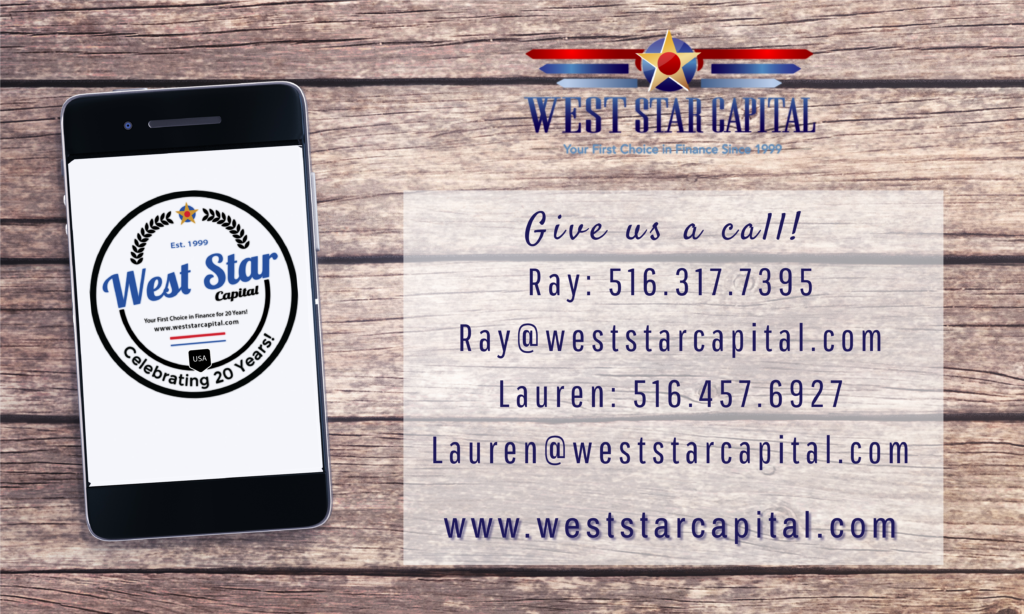 MEMORIAL DAY 2020
Memorial Day Weekend, we remember and honor our fallen brothers and sisters. In our office, we celebrate Memorial Day 365 days a year!
We have made a conscious effort to display those family members, who have put their lives on the line, in the: Army, Air Force, Marines and Navy.
God Bless our Veterans alive and in Heaven.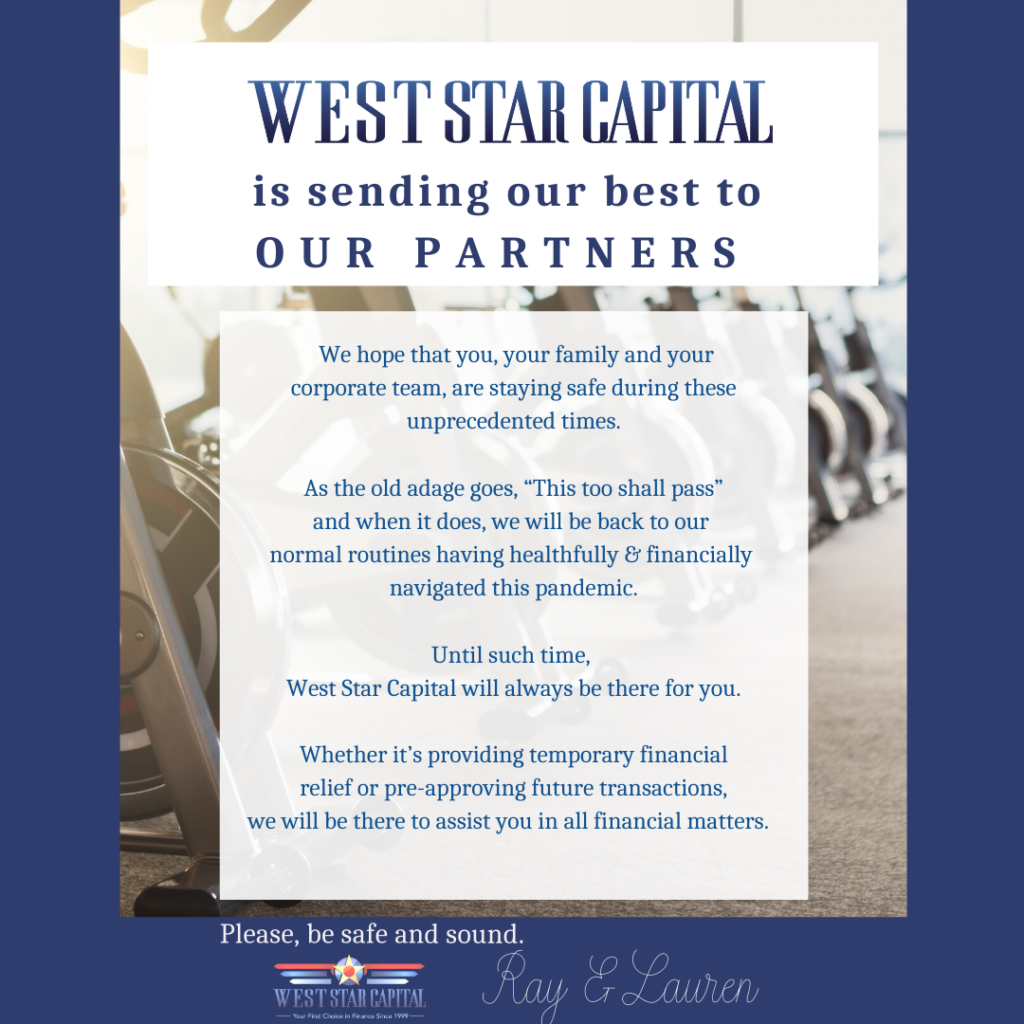 We hope that you, your family and your corporate team are staying safe during these unprecedented times.
As the old adage goes, "This too shall pass" and when it does, we will be back to our normal routines, having healthfully & financially navigated this pandemic.
Until such time, West Star Capital will always be there for you.
Whether it is providing temporary financial relief, or pre-approving future transactions, we will be there to assist you in all financial matters.
Please, be safe and sound.
Ray & Lauren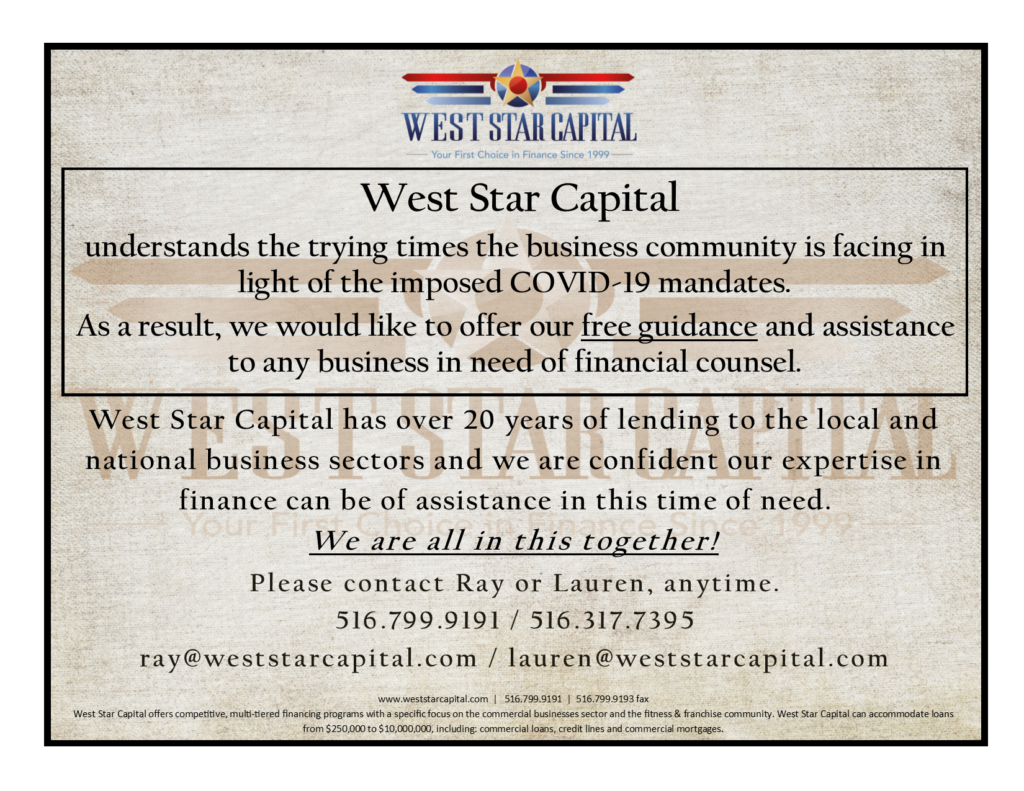 COVID-19's unfortunate and accelerated spread, has impacted the entire state of New York and in many different ways. West Star Capital is located in Nassau County, Long Island, NY.
There is currently a strictly mandated self quarantine, folks are to work from home (or not at all) and social distancing protocols have been implemented, to hopefully stop the spread of this very contagious virus. As a result, we are witnessing first-hand, local businesses that are either forced to close or struggling to simply stay open or pay employees.
We understand this course of action was put in place to protect everyone from getting and/or spreading this virus and to save lives. Of course, this is goal #1 for our government, slow the spread. However, seeing our neighbors struggle at a time like this, is deeply disheartening. Honestly, it's heartbreaking. In my 16 years here at West Star, on many occasions I have heard many of my customer's refer to their business(es) as their "baby." I've come to learn and know so many inspiration traits common in small business owners / entrepreneurs: Entrepreneur's are passionate about what they do. Entrepreneurs put all their sweat, tears and enthusiasm into their business(es). Entrepreneurs are hurting right now.
Ray and I were trying to think of a way we could help our community and donate our time to those in need. Well, Ray and I aren't doctors (lol), so we cannot help out the community in that capacity, but we do have a lot to offer in terms of finance! That is what this blog post today is all about. We would like to donate our time to the local business community, whether you're an existing customer or not. Ray has over 40 years experience in the financial sector. West Star Capital has been lending for twenty+ years. We are confident that our expertise and guidance will be of great assistance in these times of uncertainty.
As it says above, we are all in this together!!
So, if all the recent goings on are leaving you perplexed about what steps might be best to take, please give us a call. All of the guidance and suggestions we might offer, speaking with you is completely free of charge.
We want our community and neighbors to thrive! We are all in this together!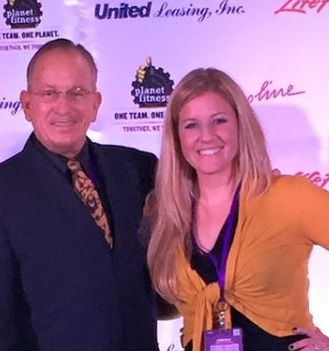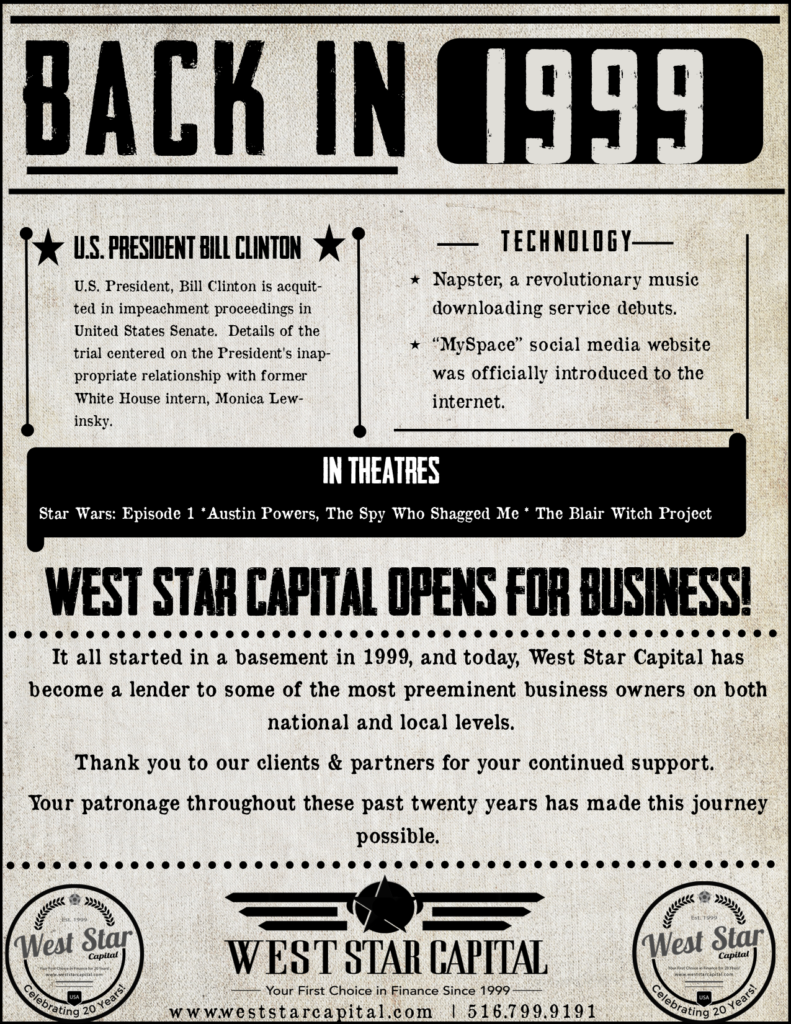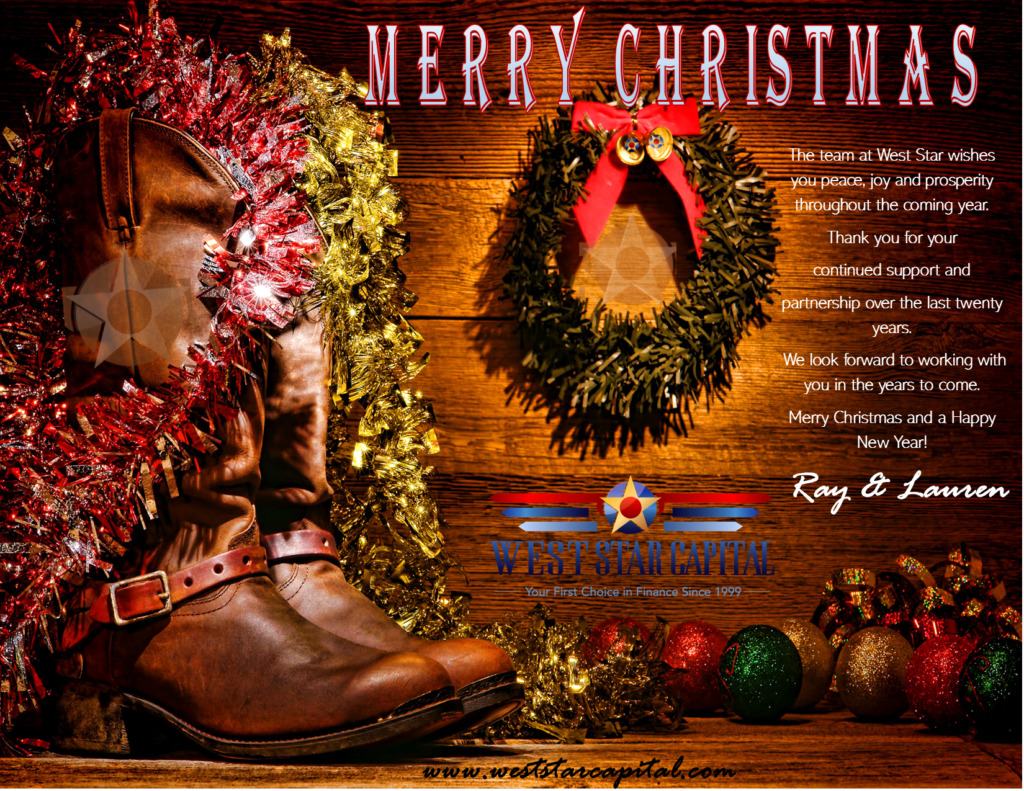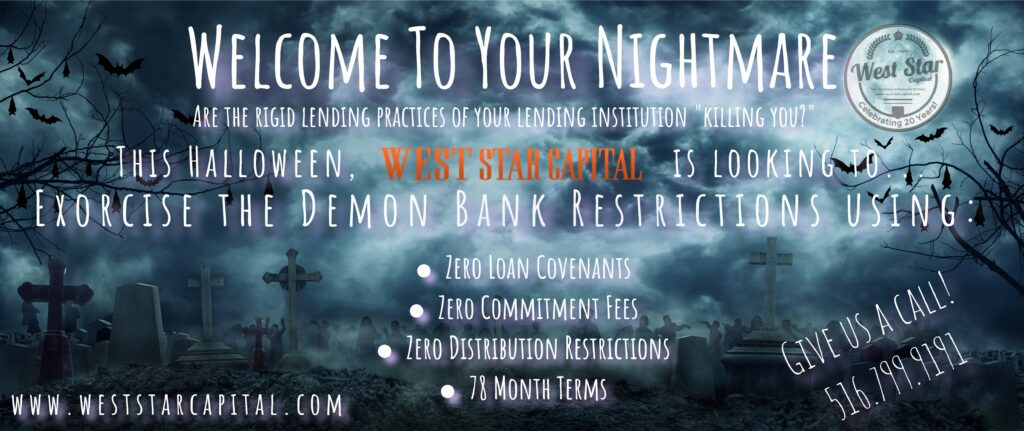 At West Star Capital, we take a lot of pride in what we do.  We are customer service driven. We are blessed to work with some of the best people in their respective industries and we are now finishing our 20th year in business. 
One plus in doing business with West Star Capital – is that our loans do not have any loan covenants, and this is extremely important to us and to YOU, our customer.
What does this mean?
Unlike our Competition,
West Star Capital Equipment Loans do not:
Take a lien on your home like the SBA (see June's blog post for more information)
Restrictive Dividends
Require Maintenance of: Cash Flow Coverage, Working Capital, Minimum Net Worth of the Company, Limit on Capital Expenditures and Taking on Additional Debt!
Require Commitment Fees
No Loan Covenants

With other lending institutions, breaking any of the above could result in a default of your loan and place you and your business in a precarious position. 
For more info, give us a call – or shoot me an e-mail! 516.799.9191 or Lauren@weststarcapital.com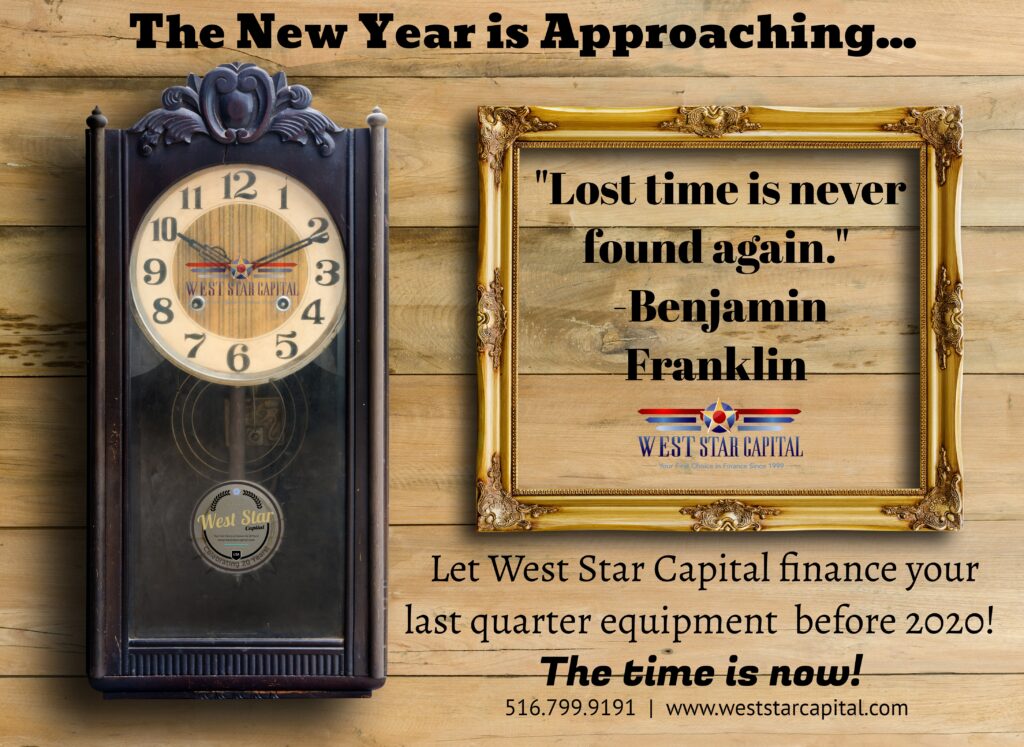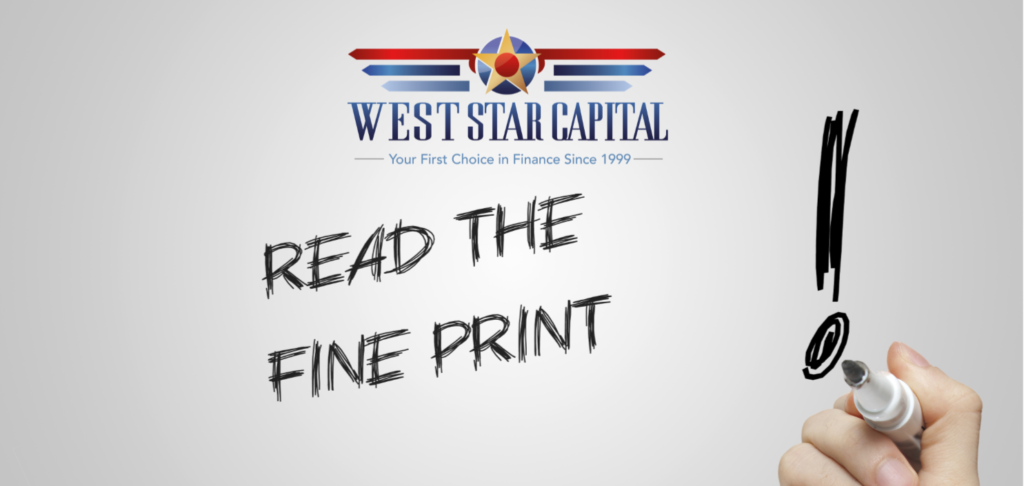 Often lost in most Lender's "FINE PRINT" are a BEVY of NEFARIOUS loan covenants that can severely restrict your organization's financial well being and future growth.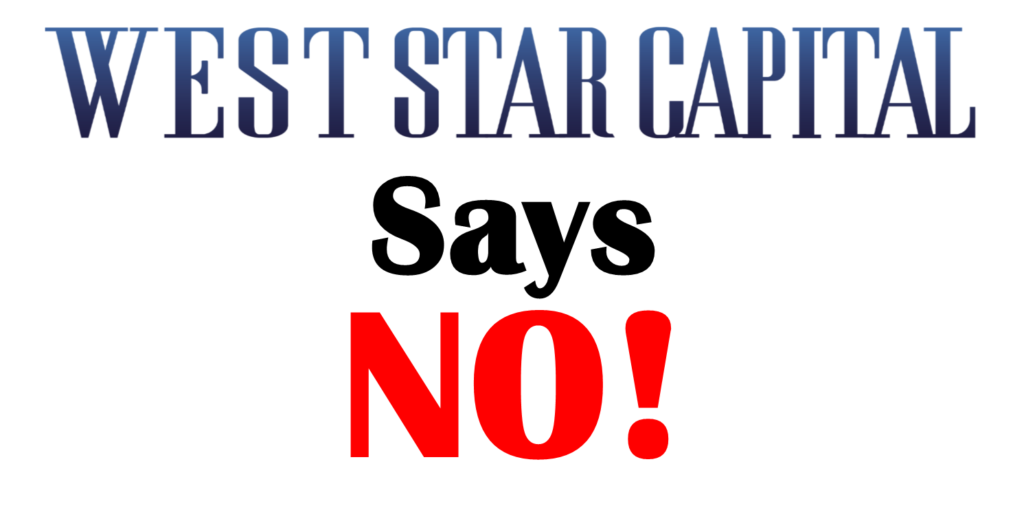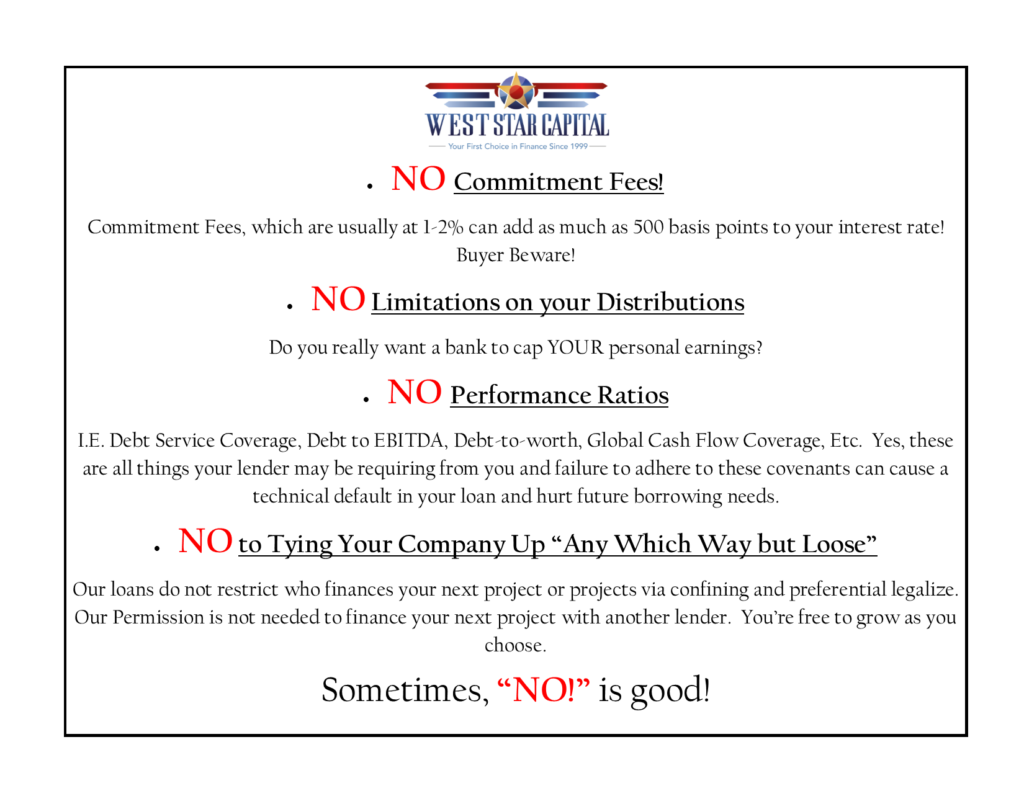 Commitment Fees: Paying for the privilege of a bank giving you a loan approval??
At West Star Capital it is our privilege to provide an approval without a fee.
Big Banks are huge profit centers who are experts at masking your cost of borrowing. When a lending institution gives you what appears to be a "skinny" rate on your equipment loan but charges you a commitment fee (1-2% of the loan upfront), they are in point of fact, increasing your cost of borrowing. The banks are aware that upfront fee income is money "out of your pocket" and into theirs!
It's pure profit to the bank's bottom line (It's what they do).
You would be better served by borrowing less or utilizing,
West Star Capital and our Zero Commitment Fee Initiative.
Limitations on Distributions:  You're an entrepreneur for a reason, right?  You are a hard worker; you have a strategic vision and you want to see it come to fruition.  The majority of lenders seek to limit your distribution to further secure the security of their loan… Are loan documents, UCC filings, Corporate and Personal Guarantees not sufficient?
At West Star Capital, we don't want to count your earnings and in effect control your wallet!  We have confidence in our borrower's business acumen and as a result, we do not require limitations on shareholder distributions.  Your money earned is your money earned. 
If in fact your bank is capping your distributions, you may want to consider paying off that loan(s).
No lender should have that kind of power over your company. A lender, bank or finance company should be your finance arm, not your business partner controlling you and your organization.
Performance Ratios: Throughout the term of your loan, some lenders require Performance Ratios. By way of example: Debt Service Coverage, Debt to EBITDA, Debt-to-worth, Global Cash Flow Coverage, etc. to measure various aspects of your company's performance throughout the term of your relationship. #BigBrother, right?
Furthermore, failure to adhere to these kinds of requirements will put you in "Technical Default" of your loan facility, even if you're paying perfectly. Being in default of a loan covenant (s) can really hinder your future borrowing needs as broken covenants have to be disclosed on your financial statements (Audited or Reviewed), or when another lender calls for a reference.
This is not an environment you want to be in with any lending institution.
Tying Up Your Company: What we mean by this is that Banks have a "belt and suspenders" mentality and more often than not will attempt to "tie up your company" and restrict your future growth and expansion as an organization, to protect their outstanding loan(s).
I personally cannot tell you how many borrowers we meet who would like to get a loan for a second or third location, and to their chagrin, they find out they can't move forward with their business plan as they had intended. This is due to their previous lender placing a restriction on the borrowing entity, inhibiting the company from guaranteeing any future loans or being part of any other projects.  This is a terrible position to be in when you have an active ADA and need to adhere to a pre-ordained expansion plan. 
In these instances, the lenders are taking the place of a "parental figure" basically saying you cannot drive your own car without their permission.
 West Star Capital does not make these kinds of demands on our borrowing entity or guaranteeing entities. 
You have the freedom to move forward as you would like.
So, we would like to take this opportunity to say, as boldly as possible, no fine print, that:

DOES NOT CHARGE COMMITMENT FEES.

DOES NOT REQUIRE LIMITATIONS OF YOUR DISTRIBUTIONS.

DOES NOT REQUIRE PERFORMANCE RATIOS.

WILL NOT TIE UP YOUR COMPANY AND HINDER YOU FROM FUTURE EXPANSION.

THE "USER FRIENDLY"
FINANCE COMPANY